The mighty medieval walls that surround Montone confer solidity to the whole city, but this orologio torre civica Montonein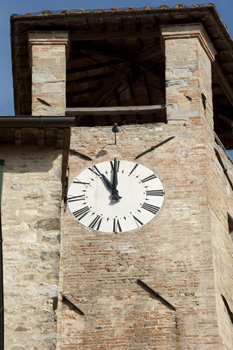 appearance is made more elegant by the towering City Tower which is in the principal square in the middle of the hamlet. At the top of the Tower there are a clock and the ancient bells. At the bottom of the structure there is a small wood door that leads off from the ancient medieval jail which can be also visited inside.
Since 1100, a lodging devoted to St. Gregorius was working in Montone to give hospitality to wayfarers and pilgrims; from an act dated back to 1137 it is clear that the Episcopate of Pieve San Gregorio owned it. Very soon, Ranieri degli Olivi (belonging to the opposing family of Fortebracci) had another hospital built so the lodging of St. Gregorius changed its structure and pourpose: in fact, starting from that moment, the former lodging was dedicated to leprouses and other patients. Later on, the two hospitals were probably merged and they were ruled by the Congregation of San Fedele.
This building has now become a residence, losing its orginal pourpose. However, the one nave church of San Fedele is still existing. The main altar hosted a cloth representing SS. Annunziata by Tommaso Bernabei da Cortona, called "Pacello", which is now kept in the City Museum.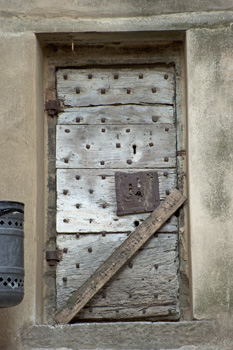 Inside the recesses of the two altars there were the statues of the revived Jesus and of San Rocco, a saint who is still celebrated every year on the 15th of August; now, both the statues are preserved inside the Collegiata.
Nowadays, the church of San Fedele is used as Auditorium with a theatre nearby, which can host about 100 viewers.