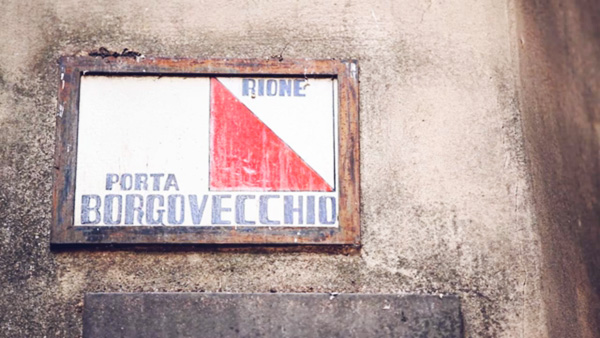 This Quarter draws its name from the Village Gate which is the main entrance to Montone and leads straight into the main square. This is the oldest and most suggestive part of Montone and its banners are red and white. From the square, two large stairways lead to the church of Saint Francis and the convent which is now the town museum and house the its most precious treasures. The austere civic tower and the church of Saint Francis dominate the house of this Quarter.
Ancient headquarters of the armed militia,village of Montone embodies the two characteristic aspects of life in medieval Umbria, deep spirituality and military conflict, a land of saints and soldiers whose qualities and defects have beebn handed down to present generations. The mighty walls which surround the village well reflect the proud and unyielding spirit of its inhabitants, the very spirit which drives them to prepare the celebrations, the costumes, the taverns and the theatrical representations with such fervour and dedication.
The Tavern. Is situated behind the main square, and occupies the whole of Via Gherardi.
There, well into the night,under its white awnings, one can taste traditional Umbrian dishes as well as those prepared according to original medieval recipes. During the celebrations the Tavern becomes the meeting point of the Village Gate Quarter, it is the place where the brave soldiers meet to quench their thirst and hunger where the sounds of laughter and heated discussion fill the air and where the visitor can best experience the feast.