The Neviere – snow-cellars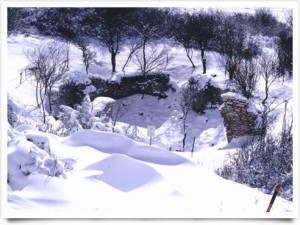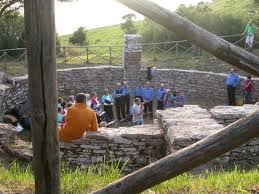 In a depression of the grassland, at an altitude 917 m a.s.l. there are located the ruins of the ancient "neviere" that today are ruins since they were abandoned about a century ago. Freed from the spontaneous vegetation, they were consolidated in 2005. The neviere (snow-cellars) were generally natural or artificial caves in which the snow was stowed during the winter: it was covered by a substantial layer of straw, so it could be used during the summer when refrigerators did not exist. The ice, cut into blocks with an axe, was wrapped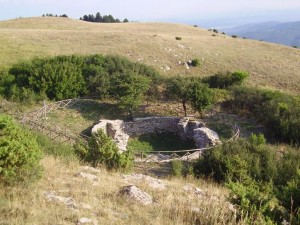 tato a valle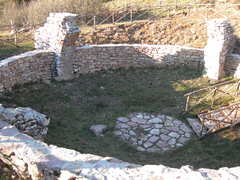 in jute bags and transported downstream on the back of mules to be used in hospital or by the wealthier classes.
The memories about the neviere on the Monte Tezio are scarce and vague; historical news discovered up to now are also really lacking. A research in the State Archives in Perugia has certified several requests since 1669 by private individuals who wanted to sell ice; the town of Perugia set the terms of sale and the price as well. The latest certain traced news about these rules dates back to 1864.
The building, which is half-underground and which has been without a cover for a long time, has a circular plan with an internal diameter of 12 metres and is enclosed by a 50 cm thick stone masonry. Four pillars, adjacent to the wall, are located at the ends of two orthogonal diameters. On the pillars, two intersecting keystone arches were set and on these arches, a wooden structure was placed which held up a traditional roof with pianelle, shingles and roof tiles.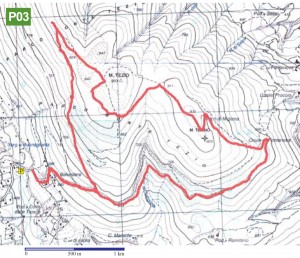 | | |
| --- | --- |
| LOCATION | HIGH HILL |
| DURATION | ABOUT 4 HOURS |
| DIFFERENCE IN ALTITUDE | 400. mt |
| DISTANCE | 10 km |
| DIFFICULTY | E |
| START | |
| MEETING POINT | |
| EQUIPMENT | HIKING BOOTS, WATER |
| NOTES | EXCURSION TO THE WATERFALLS OF MONTE ACUTO |