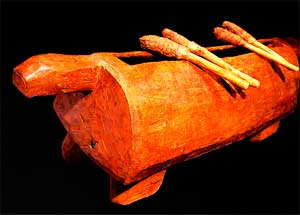 This museum, hosted in the picturesque rooms of the former convent of St. Francis of Montone, contains more than 600 objects coming from Eastern Africa.
These items have been selected and arranged in order to show the particular interactions between the various African cultures and the natural environments in which they have grown.
The display of the items is different from the usually adopted in other ethnographic museums. Instead of showing every ethnic group in a isolated section, here it has been decided to enphasize the common traits among the cultures; this approach allows to overcome the ethnographic paradigm created during the Colonialism which has separated the African cultures.
The visitors can discover on their own the amazing and rich inventive that is tipical of these objects used in everyday life: this creativity is a mark of the vital culture that shows how social reality of contemporary Africa is.